Precision Laser PhotoPlot Films and Photomasks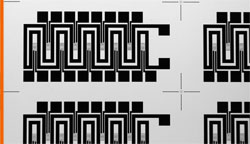 FineLine Imaging is a high volume, automated service bureau offering the highest quality laser photoplot films and film photomasks on the market.

Fineline Imaging proudly serves the North American and Worldwide markets from the base of Pikes Peak (America's Mountain) and just a short distance from the world-famous Garden of the Gods city park in Colorado Springs, Colorado.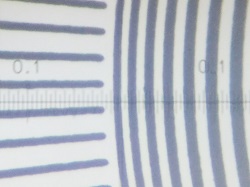 FineLine Imaging's charter is not only to provide our customers with the highest quality production-ready laser-plotted polyester-based film photomasks at very competitive prices, but to also extend the concept of service.
The smallest increments in the scale shown in the image to the left are 5 microns. The smallest lines, spaces, and curves shown were designed with 8 micron widths. With the capability to produce photomasks with images below 10 microns on a routine basis, Fineline Imaging proudly serves several worldwide specialty markets, some of which are listed to the right on this page. -->
Fineline Imaging looks forward to working with you too! Simply click the tabs above to get started!
SPECIAL OFFER: To get a complimentary 50K dpi film showing the plotter's capabilities, please click here.
Fineline Imaging is ISO 9001:2015 certified and ITAR Registered.